Saturday, March 10, 2012
As you remember from
my last post
, we had some maternity photos taken and I put up a sneak preview of the photos.
I just got my hands on the actual photos so I uploaded my favorites to
Picasa
(with decent resolution for your viewing and downloading pleasure).
Saturday, March 3, 2012
Three weeks ago, we did a maternity photo session with
Nicole Loggins Photography
.
I learned through one of my Meetup groups that this family photographer was looking to expand her portfolio into the maternity and newborn photos space. I contacted her right away and signed up for both a complimentary maternity photo session and a newborn photo session (boy, I feel greedy. teehee).
I searched the internet for "
maternity photos
" to get an idea what I will be getting myself into.
After looking around, I was afraid we would end up doing something very naked, like this:
Or something very limber, like this:
Or something that included a gun, like this: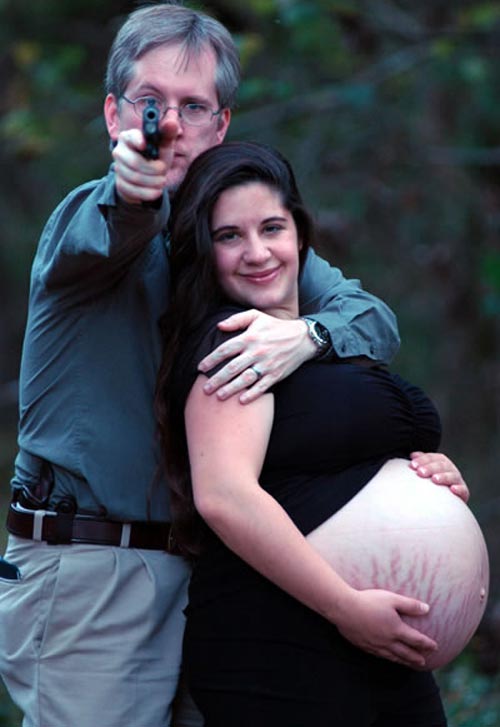 To our relief, the photographer, Nicole, only needed tasteful photos for her portfolio. PHEW!
We did the outdoor photos at the nearby park,
Cheviot Hills
, and we did the indoor photos right inside our living room (she brought her portable photography studio. It was very cool to see a studio get setup and broken down so easily!).
Nicole's photos look great and we felt very comfortable with her (not awkward at all!). If you are in the Los Angeles area and looking for a family photographer, I recommend looking into her. =)
To see a preview of our maternity photos, you can view it on her blog
HERE
.
The newborn photo session is next!
The session will be held sometime within the first 7 days that the baby is born. How exciting.